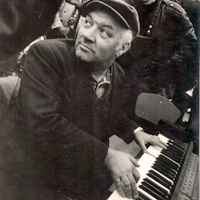 Dear friends!

Today, December, 27, is a birthday of legendary Vladimir Borisovich Feyertag.
Vladimir Borisovich is a jazz historian, author of the encyclopedia «Jazz. The Twentieth Century» and winner of Willis Conover Award, musician, musicologist, jazz critic, Honored Artist of Russia, Professor of St. Petersburg State University of Culture and Arts, the patriarch of Russian jazz journalism, member of the jury of the first season of «Master-Jam Fest».
Dear Vladimir Borisovich!
We wish you a memorable year filled with the most desirable for you events! Let the new year of your life be incredibly inspiring and happy! Good health, and more joyful «jazz mess»!
Sincerely yours,
"Master-Jam" Team