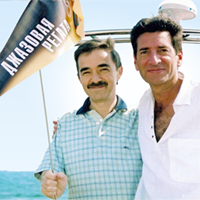 Dear Friends!
Today is the birthday of our dear friend, a true connoisseur of jazz, a prominent American producer and the president of the company «Doors to Hollywood» Bob Van Ronkel.
Bob's participation as a co-producer in carrying out «Jazz Carnivals» in 2004-2006, so beloved by Odessa citizens, made these jazz days really unforgettable.
We wish Bob Van Ronkel joy and health, drive to achieve ambitious goals, to create film and television masterpieces, as well as unrivaled jazz events.
Doors to «Master-Jam» are always open for you!
Sincerely yours,
Michael Freidlin and The team of "Master-Jam"
Magic Flea (S. Nestico) | All Stars Improvisation Big Band | Live @ Master-Jam 2013
Conducted by Anatoly Kroll
drums — Stanislav Zilberman, bass — Ilya Alabuzhev, piano — Alexey Bogolyubov, guitar — Meir Ben Michael, flute — Nelly Manukyan, harmonica — Boris Plotnikov, darbuka — Wissam Arram; saxophones: Alain Oyono, Hernan Jay Rodriguez, Andrey Mishakov, Oleg Velikanov, Oleg Subbotin; Nikita Litovko; trombones: Sergey Dolzhenkov, Evgeniy Handishko, Moran Baron, Vitaliy Vladimirov, Odei Al-Magut; trumpets: Dominik Fuss, Roberto Garcia, Miroslav Pyatnikov, Andrey Zyl