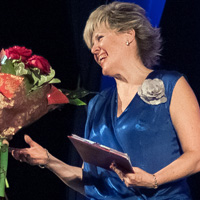 Dear friends!
Today, the 8th of November, it is a birthday of «Master-Jam Fest» jury and organizing committee member, teacher-methodologist of Odessa college of arts and culture named after K. Dankevich, organizer and host of jazz music festivals and concerts, art-director of the jazz-club «Ragtime», member of the International union of journalists and author of the articles about jazz theory and history — charming, smart, sophisticated and beautiful Elena Shevchenko!
Dear Elena!
When you speak about jazz its beauty reveals even in front of the least worldly-wise listener.
Happy Birthday!
We wish you Love and Inspiration, Health and Joy of Life! Save Jazz, and let Jazz save You!
And we gladly join both of you
Sincerely yours,
«Master-Jam» Team