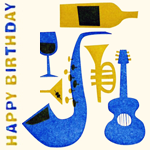 Congratulations from the festival team to the author and a producer
of the «Master-Jam Fest» Michael Freidlin! Happy Birthday!
We wish a good health, a creative inspiration and inexhaustible jazz energy to You.
Let the new year will be bright and saturated, as rhythms of salsa, filled with unique game tunes, as the music fusion, and such soulful as ballads sounds, for You!