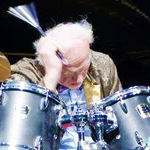 Dear friends!
Today, June 29th, is the birthday of Vladimir Tarasov — a legendary musician who sets the rhythm of beating jazz fans' hearts from all over the world, and does so with the same skill for decades!
We are lucky — Vladimir Tarsov is a co-organizer, jury member and essentially the art-leader of «Master-Jam Fest»!
We wish you, dear Vladimir, Happy Birthday! We wish you health, love, vivid perception of the world and endless flowering of your incredible talent!
Sincerely yours,
The "Master-Jam" Team