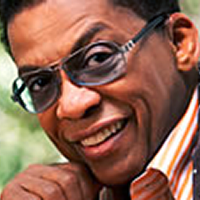 As we approach the International Jazz Day all countries of the globe are in anticipation of the festivity of joy, unity, acceptance and harmony. Jazz pulsation, harmony and melodies, which fill melomaniacs' houses, passenger compartments, places of work through musical devices', speakers or fashionable gadgets every day, will infill concert venues in a little while. All around the world people, gathering together, will exchange energy with each other and jazz performers. The world will be filled with frankness, sincere and honest notes. And it will become clear again that all people are equal at least before jazz. And it is for sure!
The man, who devoted himself to jazz as a composer, pianist, UNESCO Goodwill Ambassador for Intercultural Dialogue, chairman of Thelonious Monk Institute of Jazz and founder of Jazz Day, Mr. Herbie Hancock shares with jazz lovers his feelings and thoughts about this wonderful music, and also hopes and wishes to the world's people.
The Master-Jam Fest idea is accordant to the International Jazz Day's one and we willingly provide our media space for the video-address of jazz master and guru, Mr. Herbie Hancock.