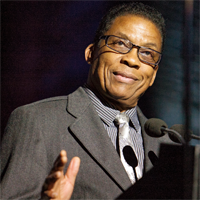 The author and Producer General of «Master-Jam Fest», Mikhail Freidlin received the letter of gratitude and support from Herbie Hancock, jazz legend of the 20th century, one of the most influential jazz musicians of modernity, 14 Grammy Awards winner, UNESCO Goodwill Ambassador for Intercultural Dialogue and UNESCO International Jazz Day founder.
«Dear Mr. Freidlin,
On behalf of UNESCO and the Thelonious Monk Institute of Jazz, we extend our heartfelt thanks to you and all the Master-Jam Fest team for doing your part to enable the global celebration of jazz in 2014. International Jazz Day depends absolutely upon the willingness of organizations such as yours to make a commitment to bring the international language of jazz to every nation on earth», — is said in the letter (February 2014).
«The marvel of this day is that it shows the world just how universal are the values of jazz: peace; mutual understanding; collaboration and cooperation amidst cultural, ethnic, and linguistic barriers — all are possible when we come together to enjoy and appreciate this music», — is written by Herbie Hancock, jazz musician and UNESCO Goodwill Ambassador and Tom Carter, the President of Thelonious Monk Institute of Jazz.

Let us recall, International Jazz Day celebration in Odessa in April, 2013, organized by the «Master-Jam» project team, was the only one in Ukraine, marked by UNESCO on the official map of International Jazz Day, and the first edition final of the conceptually new International festival-contest of jazz improvisation «Master-Jam Fest» in June, 2013 became an outstanding event of jazz community.
At the present time Yelena Khanga, renowned journalist and TV-host, «Master-Jam Fest» (MJF) organizing committee chairlady and Anatoly Kroll, famous jazz composer and conductor, MJF jury chairman successfully conduct negotiations with the directing officials of Heydar Aliyev Foundation and Baku Magazine. Under the patronage of this foundation International Jazz Day celebration is planned in Odessa and Baku in 2014, as well as holding of the second «Master-Jam Fest» final. Jazz maitres and MJF-2013 prize-winners from several countries will be invited for participation in the International Jazz Day celebration events in Odessa on April, 26 and in Baku on April, 30. The final of the second «Master-Jam Fest» season is planned in Baku on the second decade of October, 2014. It will include 3 contest days, dedicated to different jazz styles and also Gala-concert with simultaneous opening of traditional Baku jazz festival. The certain date of the «Master-Jam Fest» second season live final will be announced later.
For now accepting of applications for participation in the Master-Jam Fest-2014 is continuing on the project's website: master-jam.com
More than 300 Jazz improvisers from more than 50 countries have become participants of the second online season.
To conclude, this year the celebration of the third annual International Jazz Day will become united — Ukrainian and Azerbaijani. Herbie Hancock wished success to the organizers of Jazz Days in Odessa and Baku, Mikhail Freidlin and «Master-Jam» project team in holding of this event aimed at strengthening of peace, friendship and mutual understanding between nations, all lovers of beautiful music, which consolidates jazz people.