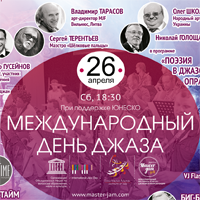 On April 26, in occasion of the International Day of Jazz, the Odessa Theater of Musical Comedy will host a big gala concert with support of UNESCO.
This year's celebration of the World Day of Jazz on April 26 being organized by the Odessa Theater of Musical Comedy, Nikolay Goloshchapov, Mikhail Freidlin and the team of «Master-Jam Fest», which will take place with personal support of Herbie Hancock, one of the most influential jazz musicians of modern times, Goodwill Ambassador of UNESCO and the founder of the International Day of Jazz.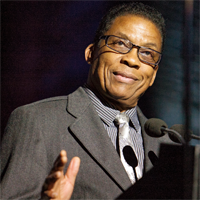 «The marvel of this day is that it shows the world just how universal are the values of jazz: peace; mutual understanding; collaboration and cooperation amidst cultural, ethnic, and linguistic barriers — all are possible when we come together to enjoy and appreciate this music», — Herbie Hancock said.
The concert on April 26 will bring together the favorites of Odessa:
• Odessa Big Band of Nikolay Goloshchapov (conductor Aleksey Petukhov) and Oleg Shkolnik in the Program «Jazz-rimmed Poetry»;
• Jazz Legend Vladimir Tarasov (percussion, Lithuania)
• Maestro «Silk Fingers» Sergey Terentyev; Andrey Mishakov, Miroslav Pyatnikov, Oleg Subbotin, Evgeny Handyshko and other finalists of Master-Jam-Fest's first season;
• Vocal A Cappella Sextet «DukeTime»;
• As well as the guest from Baku — Elnur Huseynov (vocals, participant of Eurovision, Azerbaijan).
• dancing mood will be created by «WingS» — Odessa Swing Dance Studio
Presenter: Elena Shevchenko.
Lovers of jazz for the first time will attend to the most interesting mix of presentations made by the participants of the gala concert: the big band of Nikolay Goloshchapov and DukeTime; DukeTime and Quartet of Aleksey Petukhov; Vladimir Tarasov and Sergey Terentyev with the participation of soloists Miroslav Pyatnikov, Andrei Mishakov, Maxim Kondratyev, and other musicians. Elnur Huseynov will appear both with a big band and with the ensemble of Alexei Petukhov. There will be other surprises as well.
The concert begins at 18:30 in the Odessa Theater of Musical Comedy

Tickets can be purchased at the ticket offices: