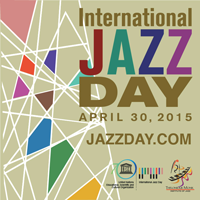 One more year has passed and on the 26th of April, 2015 at 18:00 Odessa Musical Comedy Theatre named after M.Vodyanoy will hospitably open its doors for all jazz connoisseurs again. The festivity is coming to us and it is organized by Nikolay Goloschapov, Mikhail Freidlin and «Master-Jam Fest» jointly with the administration of the theater.
Dear friends!
The fourth music marathon in commemoration of International Jazz Day in Odessa will gather on the stage of Odessa Musical Comedy Theatre the performers of different styles, bands, ages, nationalities.

On the 26th of April, 2015 not only Odessa citizens, but also guests from Kherson, prize-winners of «Master Jam Fest»–2013 Nelly Manukian (Armenia, flute) and Boris Plotnikov (Russia, harmonica), and also well-known in our city organist, guitarist, pianist Bernard Struber from Strasbourg (France) and prominent pianist, composer and teacher Dwiki Dharmawan from Jakarta (Indonesia) will take part in the program.
The talented pianist from Indonesia will debut on Odessa stage with the accompaniment of the trio from Poland consisting of Adam Golucki (drums), Pawel Urowski (bass), Piotr Checki (saxophone).
In the days before the concert we will try to get you acquaint with our foreign guests and Ukrainian musicians who by means of their talent will show us one simple truth —

Sincerely Yours,
Helena Shevchenko and 'Master-Jam' Team
The concert begins at 18:00 in the Odessa Theater of Musical Comedy

Tickets can be purchased at the theater box office and electronic ticket offices:




Now on the project website master-jam.com we continue to accept applications for participation in the Master-Jam Fest 2014.
The participants of the second online season of the project has become more than 345 jazz improvisers from 57 countries.