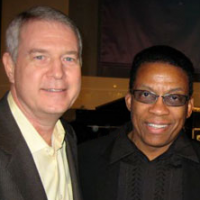 Dear friends!
On the eve of the International Jazz Day, we received a welcome letter from the UNESCO Goodwill Ambassador for Intercultural Dialogue, Chairman of the Thelonious Monk Institute of Jazz Mr. Herbie Hancock, and the President of the Institute Mr.Thomas R. Carter.
We are touched by the attention of prominent cultural figures who have dedicated themselves to a world filled with mutual understanding, and we are happy to share with you their message.
Sincerely yours,
'Master-Jam' Team
April 2015
Dear Mr. Mikhail Freidlin,
On behalf of UNESCO and the Thelonious Monk Institute of Jazz, we want to thank you and the Master-Jam Fest for agreeing to help bring International Jazz Day 2015 to Odessa, Ukraine.
Jazz is more than just a musical art form; it is an affirmation of our ability to peacefully collaborate and cooperate in spite of profound differences — to speak with our unique individual voices while still respecting and celebrating the collective. Your participation on April 30 is critical to ensuring that all people continue to hear this positive message and the music behind it.
This year, we are pleased to align our recognition of the growing global jazz movement with UNESCO's 70th anniversary celebration. For nearly three-quarters of a century, their tireless work has helped to secure and advance culture and freedom of expression throughout the world. International Jazz Day was created as a natural extension of that mission, and we are proud that countless citizens, governments, NGOs and businesses continue to invest in UNESCO's legacy by supporting jazz. We ask all our partners to keep this synchronicity in mind as they organize and promote their events in 2015.
We live in a world of increasingly complex problems. On April 30, the world will show once again that jazz is a natural part of a sustainable solution. We are so grateful to have you with us this year — please accept our best wishes as you plan your celebration in the days ahead.
Sincerely,
Herbie Hancock
UNESCO Goodwill Ambassador
for Intercultural Dialogue
Chairman, Thelonious Monk Institute of Jazz
Thomas R. Carter
President, Thelonious Monk Institute of Jazz

Now on the project website master-jam.com we continue to accept applications for participation in the Master-Jam Fest 2014.
The participants of the second online season of the project has become more than 345 jazz improvisers from 57 countries.