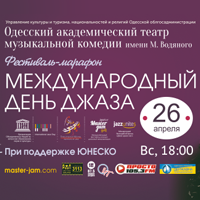 Before the announced concert of the Festival-contest «jazz unites us!» on International jazz Day, left very little time, and we begin to acquaint you with musicians, unforgettable meeting with them waiting for you at 6:00 pm April, 26.2015 at the Odessa Theatre of Musical Comedy.
Dear friends!
The winners of the 11th jazz competition in memory of Rostislav Kobanchenko, that took place in Odessa on March 22nd, 2015, are going to take part in the program of the Festival Marathon. The duet of the most young competition winners consists of Eva (10 years old) and Vyacheslav Litovchenko (8 years old), they play piano and guitar. They looked amusing at the competition, but they played very musical and artistic.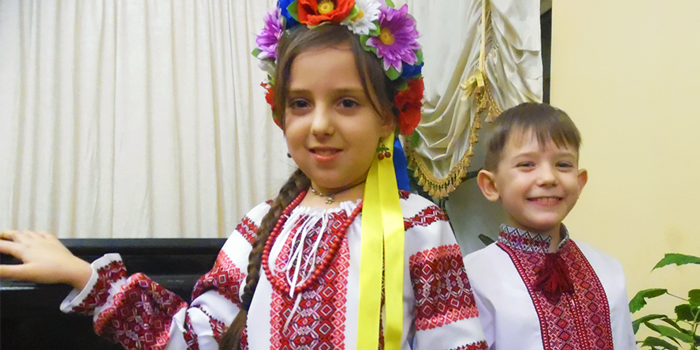 The jazz delegation from Kherson will introduce prize winners of the competition, vocal quartet «Chromotonix» that includes Elizaveta Bairak and Marietta Arushanyan, prize winners in the solo category. Their director, Oleg Goldakovskiy, will perform with them too, and Vitaliy Shapovalenko, the director of Kherson municipal big band and the department chief of the Faculty of variety theatre in the music school, will conduct Odessa big band.
Despite the young age and status, all the musicians have a great experience of performing at the concerts and festivals in Kherson, Kiev, Skadovsk, as well as at some competitions in Odessa with being granted the most significant awards. Their mentor, Oleg Vladimirovich Goldakovskiy, is devoted to his work, has an inexhaustible supply of art and performing energy, plays several instruments, sings, makes ensemble arrangements, but the most important is that he influences on young people thanks to his professionalism and working capacity, as well as thanks to his ability to improve his performing skills. The musicians from Kherson have accepted the invitation to participate in Odessa jazz marathon with enthusiasm and they are ready to introduce interesting show for any connoisseur's taste.
According to Nikolay Goloshchapov, Vitaliy Vasilevich Shapovalenko is not only his closest friend, an alumnus of Odessa conservatory specializing in trombone, but also a brilliant musician, a great erudite. But the most important is that he is a Knight and Don Quixote of jazz, he is devoted to jazz as no one else. He has been a main conductor of Kherson municipal orchestra for many years; he has been a jury member of jazz competitions in Yuzhniy, Odessa for many times:
«I was an initiator of inviting Vitaliy Vasilievich as the conductor of our orchestra at the Festival Marathon along with vocalists from Kherson», — Nikolay Goloshchapov says, —«I think it would be interesting both for me, and for Odessa audience. Moreover, the traveling jazz conductor is rare, not everyone can do such things. I anticipate the satisfaction that his performance in Odessa will bring, and think, that Odessa audience will listen to his show with enthusiasm too».
Sincerely Yours,
Elena Shevchenko and 'Master-Jam' Team
The concert begins at 18:00 in the Odessa Theater of Musical Comedy

Tickets can be purchased at the theater box office and electronic ticket offices: