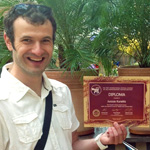 The first Master-Jam season Internet voting for People's Choice Award was held during 6 months until the first final day on the festival website in parallel with selection finalists by the jury.

Even the online phase participant, who didn't become the finalist, but scored more votes of the Internet audience on the festival website, could become the winner of the vote.

By the audience online voting results this prize was awarded to Juozas Kuraitis, saxophonist from Lithuania and his name was announced during the awarding ceremony of the first International festival-contest of jazz-improvisation «Master-Jam Fest 2013» in Odessa.

On the pictures: The Honorary Consul of the Republic of Lithuania in Odessa Elena Drutis is handing the diploma of the winner and iPad, the present from the organizers, to Juozas Kuraitis.

On behalf of the organizing committee of International Festival-contest of jazz improvisation «Master-Jam Fest» we thank Elena Drutis, the Honorary Consul, for support provided during celebration of International Jazz Day, preparing and holding the final of «Master-Jam Fest», and also for personal participation in Juozas Kuraitis awarding.