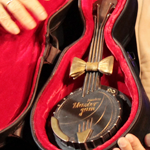 Dear friends, have you ever thought if it is possible to model jazz in clay? Sculpt from crystal, carve out of marble? Cast in bronze?
And the «Master-Jam Fest» creators thought once. Because creating the grand prize of the jazz festival isn't easy at all. Especially the prize of such an unusual, innovative, «jam» festival-competition of jazz improvisation. Therefore, the prize was to be unusual and unique, it was supposed to be a matter of pride for both its creators and the future owner of the prize. Real creative team worked on the creation of the Grand Prix. That is thanks to this team «Master-Jam Fest» embodied the idea of the Grand Prix of the Festival, a kind of «Jazz Oscar».
Tradition and modernity, music and Internet technologies are closely intertwined in the MJF... It's this amazing fusion its general producer, author of the idea of «Bronze Banjo», Mikhail P. Freidlin, primarily wanted to see in the Grand Prix of the festival. Where does the soul of jazz live? Dozens of variants were considered and discussed, dozens of sketches were prepared. A variety of materials to make a prize from were selected and rejected. Glass, crystal, marble, steel were eliminated one by one. Until the absolutely stunning «image of the banjo», which became the Grand Prix of the festival «Master Jam Fest» began to take shape. At first vaguely, then more and more detailed.
From the very beginning an architect and designer Irina Danshina helped the bronze banjo, whose idea occurred to Mikhail Freidlin, to acquire visible features. When the turn of «reification» sketches, gradual transformation of drawings to the clay model, then clay model turning into a special mold came, sculptor Roman Tverdokhlebovconnected to the work. At the stage of final processing bronze molding got into caring hands of Semyon Kantor. Thanks to him, the Grand Prix got an elegant finish and a gold bow-tie. Elegant carrying case for banjo of fine crafted leather and velvet was ordered in Nikolaev. The idea was thought through, sketches were manually drawn, the banjo's future was influenced by sensitive hands of the sculptor, then of engravers, bronze and gold logo, strings and a bow-tie were polished manually, a prize little by little was getting the soul, the very «soul jazz» with the love of its creators.
Here it should be noted that the festival from the very beginning was lucky with «fellow travelers» — all, who participated in all phases of project development in some way, were incredibly creative, bright and talented people, who are in love with jazz! We can say that everyone, who was a part of a creative collaboration with the project had a kind of romance with the Festival. And always mutual.
GET ACQUAINTED — SCULPTOR!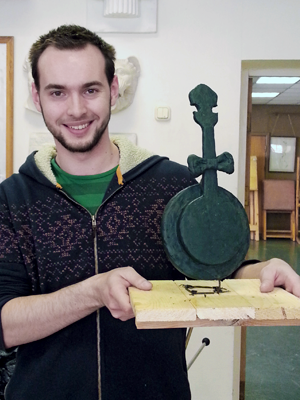 The sculptor of the main MJF prize, Roman Tverdohlebov was not an exception also. With an open, receptive, warm heart, he approached to the creation of the Grand Prix. But what is soul without skill of the sculptor? Sculptor without skill is as without hands, and just the Venus de Milo without hands is fine, but she would never see the world if the sculptor, who created it, was not «beautiful» in the same level!
You probably cannot wait to find out more about Roman? You will not believe me, but for the sake of this we have started our conversation. That's just «to find out more» will not work. Roman, like all the talented people is a modest man, so it won't take much efforts to tell you about Roman literary everything:
The future sculptor was born in Moscow April 13, 1987. He studied in the Tsaritsyno college № 548 in art classes, where now teaches and conducts sculpture workshops. He finished Moscow Academic Art Lyceum of the Russian Academy of Arts and Moscow State Academic Art Institute named after Surikov, Department of Sculpture. Here are photos of some of his sculptures.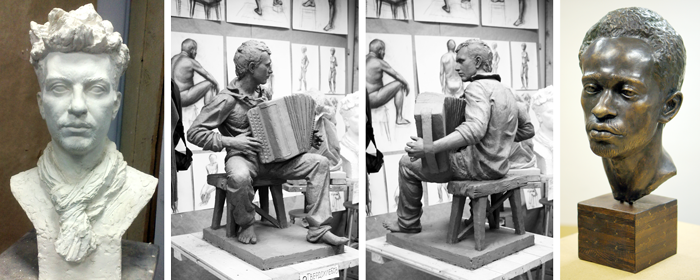 In addition to the information above Roman also works in the studio of creative design INRE, The Interior design & Architecture
Roman himself wrote the following words about the work on the main prize of the festival:
«It was doubly pleasant and interesting to take this job because I love music, I love jazz, blues, funk, rock, and different interpretations and fusions of these styles. I am a guitarist and write music. In summer, we will record the first mini-album. The most important thing that during work on the prize I always felt support and help, I felt myself a part of the team, which greatly facilitated my task, like the fact that it is close to my subject, and I am very happy to be a coauthor of the main award for this wonderful festival. Special thanks to Mikhail Freidlin and Yelena Khanga!»
We wish Roman successful participation in interesting and creative large projects, ability to pass on to students the secrets that breathe life into any work of human hands in addition to technical aspects of creating sculptures process. Since Roman knows what is at stake. But this secret, he will only open to the most talented students of him.
We are looking forward to Roman's mini-album release and wish him to gain popularity in the musical field also! So, whether you're sitting in front of the computer alone or clung to it with the whole family or maybe with friends, do not regret applause to jazz sculptor Roman Tverdokhlebov! Close people will not condemn you for expression of the delight seizing your soul, and Roman will not even know about it, but he will definitely feel that right now it is needed to play his favorite jazz song! Agree, it will be good!
VICTORY IS ALWAYS WINGED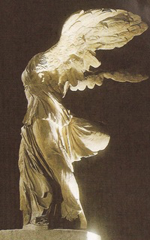 From ancient times to the present day victory appears to us in the form of a winged goddess Nike of Samothrace. Our banjo has no such wings, like Nike, but it has other wings — the wings of golden bow-tie that make a bronze sculpture weighing 3.5 kg light and graceful, ready just about to fly up and fly away in the wonderful country of music. In a country where the notes fall from heaven with drops of grace rain, and there is no false one, but each — the one, the only one! And what flowers bloom under this rain of forever young music!..
Therefore it is symbolic that the Festival Grand Prix winner became a young (probably the youngest jazz musician in the world) Joey Alexander Sila, who took bronze banjo in Indonesia.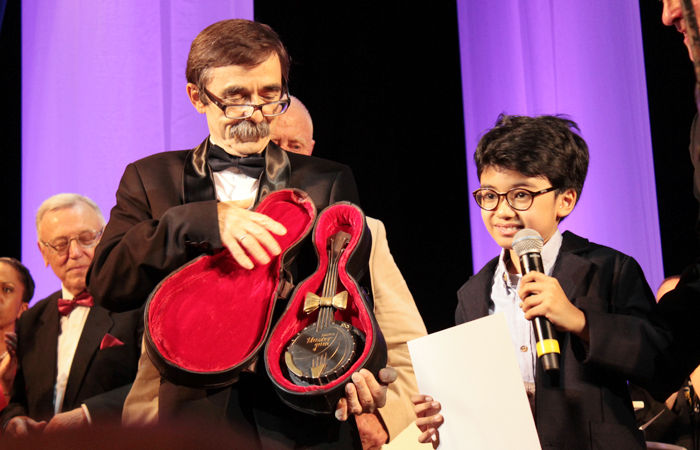 And we say thanks to the creators: Mikhail Freidlin and Yelena Khanga, Irina Danshina and Roman Tverdokhlebov, Semyon Cantor and craftsmen who were engaged in the final finish of our «Jazz Oscar»!
Sincerely yours,
«Master Jam Fest» Team