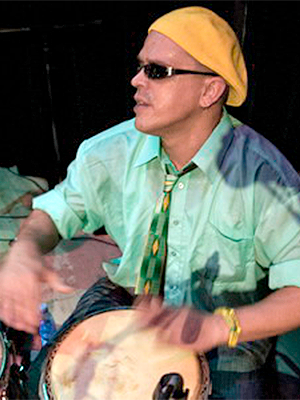 Cuba, Havana
Emilio Del Monte Jr. (Born on November 15, 1974 in Lawton, Havana, Cuba). Cuban percussionist & composer.
"Emilito" began his musical studies in Guillermo Tomas Middle School of Art in Guanabacoa.
Later he continued his studies at Amadeo Rold?n Conservatory in Havana.
Emilio is already an important percussionist inside of the Cuban Jazz movement.
Emilio Del Monte Jr. has worked with different jazz and Cuban music groups as Emiliano Salvador & Quintet, Temperamento band, Cubanismo band, Jose Maria Vitier & Band, Alexis Bosch & Proyecto Jazz Cubano and others.
In addition, he is a priest (babalawo) of the Yoruba (african) religion. He takes part in "toques de santo" (religious ceremonies dedicated to African Gods) and he is a specialist in every one of the Afrocuban rhythms and the folk percussion "tambores Bata" (Bata drums)
At present he is one of the most versatile percussionists in Cuba.