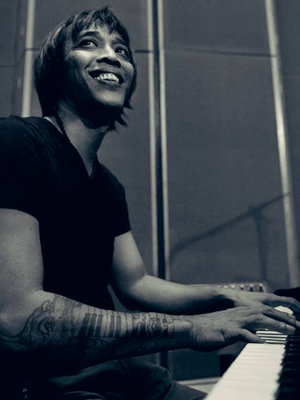 Indonesia, Bali
Since 1996, Erik began living in Yogyakarta. This decision became a new beginning for the career development of Sondhy. In this city, Erik found many musician friends. He fell harder in love with Jazz music that gave him the freedom to improvise and express his mood more freely. And the mentors who were instrumental in developing Erik's ability were Agung Prasetyo (bass) and Idang Rasjidi (pianist). His band at that time D\'Mood Jazz then tried to take part in a Jazz Festival competition throughout Indonesia organized by the University of Indonesia in Jakarta in 1999, and they managed to finish as the winners, carving their names as well as beginning certain steps in the world of Jazz at national scale because they also grabbed the best pianist and keyboardist awards. Missing his village and family in Bali, after carving his name in the national scale Jazz environment, Erik who had the vision to develop Jazz in the Island of Gods where he was born eventually decided to move back to Bali in early 2000. Here is where he joined Jiwa Band, which was popular, but broke up in 2002. At the same year was born Svara Band that also often participated in various Jazz events, such as Jazz Merah Putih and Indonesian Open Jazz. 3 years later, in 2005, Erik Sondhy began to re-explore a solo career, playing the piano solo in Jazz Merah Putih, Java Jazz but still together with Koko Harsue Quartet and started to have the dream to be able to play many creations, a project without limits in playing music. Then in 2007, the Erik Sondhy Project came to life or more widely known until today by the name E.S.P., where Erik released his first album Introducing Trio 07. Erik who has walked quite a long journey in his music career feels that a good performance must be organic and synergized. Erik has often been amidst the audience first before getting on stage to feel the energy directly, so there is totality created in every one of his performances.
In 2012, the Erik Sondhy Project worked with the trio named Karma Jazz Trio, which had members Erik Sondhy (rhodes), Sandy Winarta (drums) and Indra Gupta (bass). And they produced an album titled Karma. A regular performer in Java Jazz every year since 2005 until now (2015), in 2013, he was nominated as one of the Best Men of the Year by Yak Magazine, often appearing with many projects and bands, among others Erik Sondhy Trio (E.S.P.), Karma Jazz Trio (E.S.P.), Bertha, Dewa Budjana, The Revelation and many other well-known Jazz musicians.
In June 2015, Erik Sondhy left to London, England, to record his third album in Abbey Road Studios. An album he plans to release in early 2016.
Erik's journey until today has seen him perform together with various Indonesian artists such as Indra Lesmana, Dewa Budjana, Pitoelas Bigband, Dwiki Dharmawan, Indro Hardjodikoro, Balawan, Barry Likumahuwa, Sandy Winarta, and many others.
While at international scale, Erik has performed in Singapore Jazz Festival, Penang Jazz Festival, Kota Kinabalu Jazz Festival, famous Jazz caf?s in London, Ronnie Scott's and Troy Jazz Bar.
Erik has played together with popular musicians such as Hadrien Feraud (bass), Toninho Horta (guitar), Andy Davis (trumpet), Nigel Price (guitar), Mark Lewandowski (bass), Saleem Raman (drums) and opened the Latin Jazz pianist concert of Grammy Award Winner Chuco Valdez.