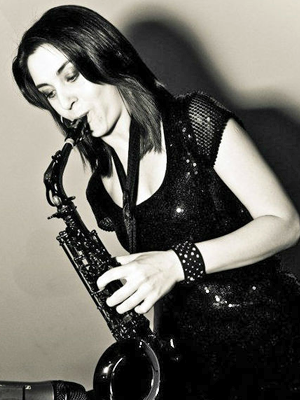 Russia, Novokuznetsk
Marina Zadora is an Siberian jazz musician, saxophonist, vocalist, composer, arranger and songwriter. She finished Novokuznetsk Musical College as a clarinetist in 1998.
From 2001 till 2013 she has been a lead alto of "New Kuznetsk Big Band" of "Helicon" jazz club, one of the hugest in Siberia. She was a participant of the jazz festivals and live sets with various musicians from Russia, Europe and US such as Ron Holloway, James Green, Kendrick Scott, Bobby Martinez, Ron Moton, Jeremy Pelt, Andre Villege, Charito, Sergey Manukyan, Robert Anchipolovsky, Valery Ponomaryov, David Goloshchekin .
In 2013 she started and organized the Inter Jazz Project of Russia - USA - Italy and released the singles I See the Light, Back to Reality and Kupala.
Collaboration and joint album of Invisiblemann "Global FUNKtion", released in 2013 in California with a bass guitarist of the "True Funk Soldiers" Kenneth D. James, co-authorship and work with a pianist Lino Bufo of "Jazz Elements", drummer Enrico Ferraresi and also as a member of several international projects as a vocalist, saxophonist and co-author in jazz, lounge, world, reggae, new age, smooth and soul music.
Nowadays her songs and tracks are in broadcasting on fm radio stations in Milan, Buenos Aires, Oakland, KKJZ FM, as well as the cities of Siberia.
Main goal in her life is self-improvement.
Her mission is to unite people through the music, bring some light to the cruel world.