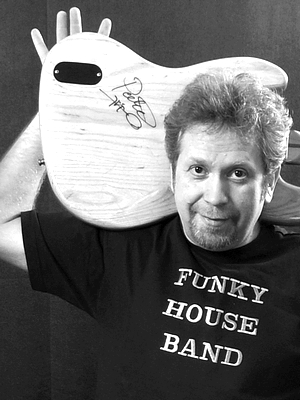 Russia, Ufa
Oleg Yangurov is the founder of "Funky House Band". He went in for music when he was 10, having heard the recordings of "the Beatles". In 1979 he came to the concert of Aleksey Kozlov band "Arsenal" and discovered such music styles as jazz-rock, fusion. In 1985 he graduated from Ufa State Aviation Technical University. His diploma was shelved as in 1987 he joined the jazz band "Orlan" held by Oleg Kireev, with whom he has worked for 7 years. During these years the band gave a number of concerts in Russia, Poland, Finland, Germany, and the Netherlands and recorded an album "Bashkyr Legends".
In 1994 Oleg leaves Russia and spends much time working in Bangkok, Hong Kong, Tokio, playing and making records with the professionals from the USA, Canada, France, Norway, Switzerland, Australia and Japan. In these years he receives a certificate from the London College "Trinity" with a "Professional" category on bass with a top grade. In 2003 Oleg comes back to Ufa and creates "Funky House Band". Initially the band was created for playing funk music. This is where their name originates. Nowadays the musicians of the group aim at composing and performing their own music. The best word to define their music style would be "funky-fusion". Their repertory basis is the compositions made by the members of the band.
Oleg is one of the most in-demand bass players in Ufa, he takes part in various projects, from jazz to hip-hop.