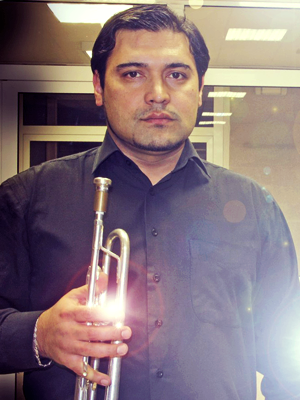 Russia, Pskov
My name is Rustam Artikov. I have a classical education. In my young days I heard the play of great jazzmen Dizzy Gillespie and Arturo Sandoval and fell in love with Jazz! That is why Jazz art became my life-work.
I played in The Tour Concerts as a participant of wind instruments bands in the Musical Festival on the cities of France in 1996.
In 1999 I graduated from the Tashkent State Conservatory. From 2000 to 2008 I worked as a solo performer in the group of trumpeters in the variety-symphonic orchestra of the state broadcasting company. In 2009 I participated in the International Wind Instrument Competition in Markneukirchen (Germany).
In Tashkent I played at the Jazz Festivals together with the American Jazz Quartet of the well-known saxophonist Brayon Horton. I participated in the Jazz Festival in 2008-2010.
In Chimkent and in Alma-Ata (Kazakhstan) I participated in the Alma-Ata State Jazz Big Band. I played at the jam with a quintet of the well-known American trumpeter Shamar Allen (New Orleans).
In Tomsk (Russia) I worked as the first trumpeter in the Jazz Big Band.
I'm the diploma winner of the Student jazz trumpeters competition in Moscow 2012.
Today I live and work in Russia. I play jazz programs in concert Halls and clubs in the cities of Russia with various bands, musicians from St. Petersburg and Moscow. I like the following jazz styles: bee bop jazz, latin-jazz, big Band orchestra music. I compose in styles of the jazz ballad and ethnic jazz.