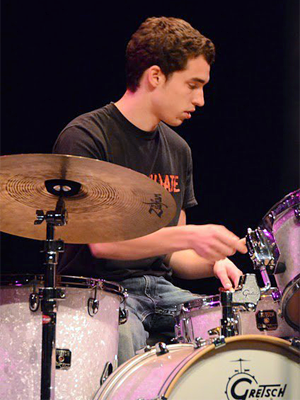 Belgium, Aiseau
S?bastien Peeters is a Belgian jazz drummer and vibes player, was born in 1994. He began music at 6 years old. His formation was first assured by Jacky Coppens until he decide to became professional musician. At 15, he entered into an artistic college in classical percussion with Gilles Ansciaux and continue his formation at the «Conservatoire Royal de Bruxelles» on drums with Thomas Grimmonprez and Thierry Guttman and on jazz vibraphone with Guy Cabay.
To complete his formation, he have also follow a lot a master classes or lessons with musicians like: Bruno Castellucci, Jean-Louis Rassinfosse, Jacques Pili, Clarence Penn, Pete Churchill, Gene Lake, Reggie Washington, ...
His personal projects are really diverse, he plays vibraphone into the Brussels Jazz Collective as well as drums with Teranga Band. He have played a lot of different type of music with many projects: classical orchestra, big bands, contemporary music, latin music, reggae, funk or whether soul etc.

Sebastien Peeters (vibraphone, Belgium)