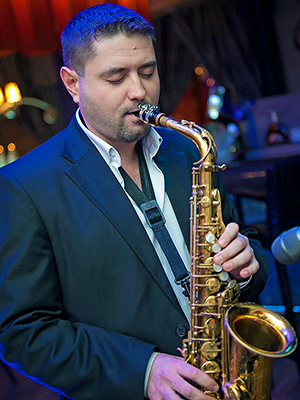 Kazakhstan, Almaty
He began playing the saxophone at age of 13 in the children's jazz school led by T.Zaripov. As a participant of the orchestra he performed in International Jazz Festival 1998 in New York, and finally caught jazz bug. He studied in the College of Music named after P.I.Tchaikovsky, become a laureate of Young performers contest 2000 in Kazakhstan and got a diploma of Young performers contest 2001 in Togliatti (Russia). Then he entered in Kazakh National Academy of Arts to prof. K.I.Dobrovolsky.
Since 2005 he is a constant participant of Jazz festivals that are organized in Kazakhstan. Took a part in concerts with Billy Cobham and Rosalia de Souza. Played with numerous well-known musicians at various jam sessions.
Currently he is continuing improving his skills and seeking his own style in music.
I like improvising not only on stage, but also in life ))) – says Vadim.