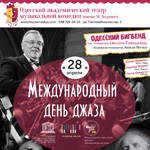 Dear devotees of jazz and high culture!
Last year the jazz community of our city successfully started the tradition of the UNESCO International Jazz Day Celebration in Odessa by the initiative of Mikhail Freidlin and Nikolay Goloshchapov.
During the celebration the first global project in the world jazz community, based on the modern Internet communicatory capabilities and a jam session principle, «Master-Jam Fest» was presented.
On April, 28, 2013 the Odessa Academic Music Comedy Theatre together with «Master-Jam Fest» Organizing Committee by the support of UNESCO will mark the World Jazz Day with the big concert of beloved Odessa Big Band under conduction of Nikolay Goloshchapov (musical director Alexey Petukhov) with the participation of famous Vladimir Tarasov (Lithuania), Sergey Terentyev (Ukraine) and other performers.
This day in Odessa Musical Comedy Theatre the world premiere of music compositions for percussion and jazz orchestra will be presented. This music is specially written for Odessa Big Band by the legendary jazz musician, the director, the experimentalist and the avant-garde artist Vladimir Tarasov.
The prominent pianist, Sergey Terentyev, whose music is deep and virtusic, will also give a pleasure of high music with a join performance together with Odessa Jazz Orchestra.
Beautiful vocalists Yulia Nelson (Kiev, Ukraine) and Carola Zerega (Ecuador) will also participate in the concert.
The host is elegant Yelena Shevchenko.