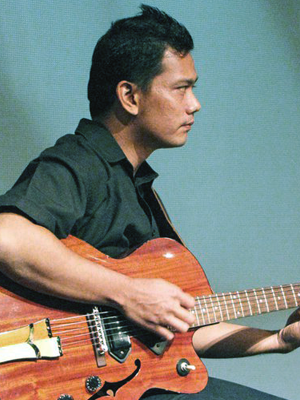 Indonesia, Jakarta
He was born in Jakarta capital city of Indonesia, with full name Achmad Ananda Indra, is authentic talented guitarist among the young guitar players in Indonesia.
He started to play guitar at the age of 12. In 1997 at the age of 22 he discovered the beauty of playing jazz. In 2000 Idang Rasjidi asked him to join his band which gave him the opportunity to get deeper exposure to Jazz music and to develop his own unique style.
Another milestone in his career was when he met John Stowell and Japanese guitar player Hideaki Tokunaga. John's lessons had a major influence on his view on either playing guitar and music in general.
At present Nanda is a regular featured guest on many jazz festivals in Asia (Penang, Jakjazz, Javajazz, Singapore) and abroad. 2004 he was invited to perform at the Indonesian embassy in Norway.
Besides Itmos he currently plays guitar as sideman of Indonesians rising jazz icon Tompi, Margie Seggers,
Bubi Chen (java jazz 2010), Manna (on Jakarta Blues Festival 2010), etc
ITMOS is his idealist project on 2008, an acoustic collaboration with great German pianist Stefan Thiele.
Both players do not only appear as instrumentalists but also as composers. Now he makes a trio project called AINA (Ananda on guitar, Ilyass on Bass and Agung on drums), other project is a collaboration with A.S Mates (one of legendary bass player in Indonesia: this collaboration called MANNA, which means Mates and Nanda, He is also involved into another project duo with beautiful vocals (this project called Nengah and Nanda.