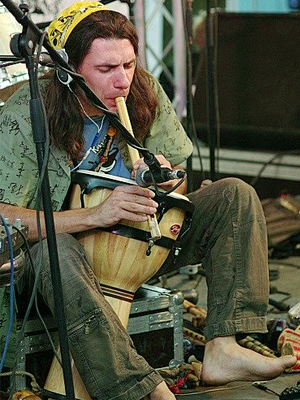 Ukraine, Odessa
Alexander Kostyuchenko is a drummer and a percussionist from Odessa. He was born in 1982. Started to play music professionally at his 15, when he entered into the Odessa musical college,
When he finished the mainstream department (drums), he entered into the Odessa Musical Academy: the drums department. At 2005 he graduated from the Odessa conservatory with honor.
Alexander is a winner of numerous jazz contests and a participant of international festivals in Bulgaria, Poland, Romania, Russia, Ukraine, Austria, etc. He won the first prize at the all-Ukrainian contest of young performers in Donetsk. He participated in the festivals DoDj in Donetsk, Jazz-Carnival in Odessa, Jazz Koktebele in Crimea, Coco in Yuzhnoye, "Varna summer" in Bulgaria, "Old and young" in Poland and many others.
2001-2006 he worked in national Odessa philarmonical orchestra under the conduction of Hobart Erl.
At the moment he has his solo project MRUDU, as a multi-instrumentalist, sampling different ethnical instruments. Also he plays in different jazz, ethnical, rock and pop projects as a drummer and as a percussionist.