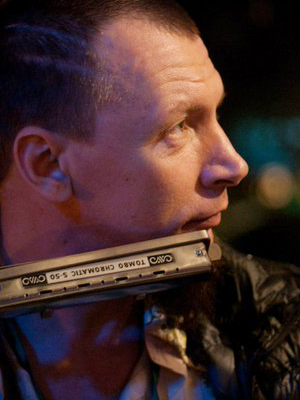 Russia, Moscow
Alexey was born and lived for many years in Siberia. He finished the conductor-choir department of musical college, and also the academy of culture as "Director of Public Events". He is a unique performer, who plays the two-row chromatic harmonica. He has been playing this instrument since 2005, accompanying himself with guitar and use this instrument in instrumental and vocal programs. He is self-educated guitarist and harmonica player.
In 2009 he moved into Moscow and became using harmonica more actively for performing instrumental jazz.
Nowadays, we unfortunately, don't know many two-row chromatic harmonica performers. These harmonicas are produced in Japan and China and they are not common in Russia. There is no any school of teaching playing the two-row chromatic harmonica also.
Besides instrumental music Alexey creates songs and often performs with song (and recently instrumental) programs in different places of Moscow with his ensemble "Project BAM" (acoustic guitar, harmonica, bass-guitar, cajon).
Influences: cool jazz, latin jazz, gipsy jazz, bossa-nova, bebop.