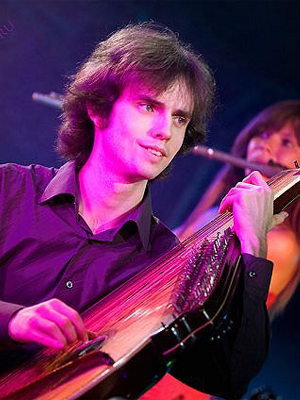 Ukraine, Odessa
Georgiy Matviyiv is a bandura player-innovator, the soloist of the European Jazz Orchestra, the soloist of "Tchayka" ensemble, composer, arranger, and the winner of more than 30 international jazz competitions and the competitions of academic music, he is a teacher in Odessa Music Academy named Nezhdanova and an inventor of new bandura playing methods.
He gives recitals around Ukraine and Russia, and also has performed in France, Denmark, Germany, Poland, Austria, Hungary, Czech Republic, Slovenia, Slovakia, Romania, Byelorussia.
For the moment Georgiy released three license albums with the author's music for bandura solo and in ensemble with different instrument players. The first video-clip for the bandura solo composition in the history has been shot for the Georgiy's composition "Wild West Jazz" (the idea author and director – Anastasia Ursu).
His music is performed by bandura players from all over Ukraine and abroad at concerts, festivals, examinations, and even on the streets…
Currently musician is working on his candidate thesis.