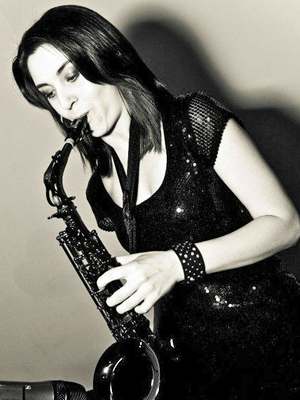 Russia, Novokuznetsk
Marina Zadorozhnaya is a musician: saxophonist, vocalist, and songwriter.
She finished Novokuznetsk musical college as a clarinetist in 1998
Since 2001 till now she has been a bandleader of "Noviy Kuznetskiy" big band of "Gelion" jazz-club.
She works with various ensembles and musicians of Siberia, participates in jazz festivals such as international festival "Jazz in old castle", Novokuznetsk, and regional "Jazz-Picnic", Tomsk.
She also works under her author projects, and does her solo creative activity.
She was influenced by Julian Cannonball Adderley, Maceo Parker, Stevie Wonder, Rachelle Ferrell.
http://www.youtube.com/JazzMarina
http://www.facebook.com/MarinaZadorozhnaya
http://vk.com/jazzmarina
Marina Zadorozhnaya (sax, Russia)
"Music chooses us itself."