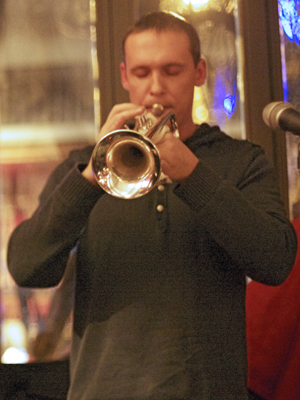 Ukraine, Odessa
Myroslav Pyatnikovis a great trumpeter, known and appreciated by everyone in Odessa jazz circles. Performed at such international festivals as Varna Summer Jazz Festival (Bulgaria), «Odessa jazz-carnival», and also many other jazz festivals in CIS space.
He actively participates in numerous creative projects and jam-sessions. Performed with jazz musicians below:
Oleg Smirnov, Dmitriy Nedelev, Stoyan Yankulov, Valeriy Negevora, Igor Semenov, Vladimir Leonov, Hristo Yotsov, Alexey Petukhov, Yuriy Kunetsov, Roxana Smirnova, Taras Kuznetsov, Igor Shabanov, Alexey Bogolubov, Sergey Ivanov, Anton Donchev, Vitaly Tkachuk, Igor Osipov, Valery Burimchenko, Vladimir Volkov, Andrey Prozorov.
He had an honor to play with Ashley Slater several times as a member of "Fidel's Children" group, whose permanent participant he is.