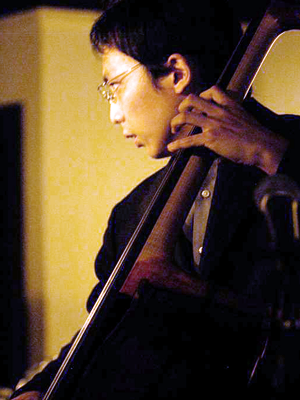 Japan, Kobe
"Born in Kobe, Japan. He was educated in a International School in Japan and made him interested in the American music.
His musical training started at the age of 18 as a Electric Bassist, after graduating highschool in 1995.
He entered Koyo Conservatory in 1996 and have studied harmony and various types of music. It was the place where he met jazz and made himinto it so much that he switched to Acoustic Bass at the age of 20.
In 1999, he entered the Berklee College of Music.
He took lessons fromRon Mahdi, John Lockwood, Dave Hollender, and Jim Stinnett. During his college days, he have played in various venues and musician.
After graduating Berklee in 2002, he made a decision to continue his musical career in Japan. He has played in various venues, cities, countries and festivals such as Taipei International Jazz Festival, Europa Fest, Tokushima Jazz Street, Takatsuki Jazz Street, Osaka Bluenote, etc...He has played with Benny Green, Craig Handy, John Pizarreli, Milton Fletcher, Makoto Ozone,Harvey Thompson,Takeshi Shimizu, Makoto Kuriya, Kalta Ootsuki, Yoichi Tanaka to name a few."
http://www.ryohatakeyama.com http://www.facebook.com/ryohatakeyama