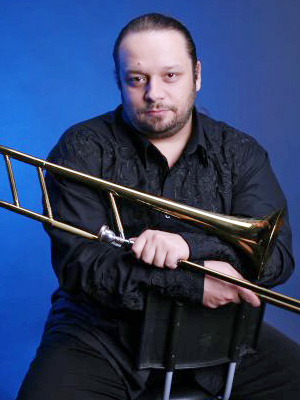 Russia, Yekaterinburg
Vitaliy Vladimirov is a trombonist, composer, arranger, conductor. A winner of international contests. An awardee of the Sverdlovsk region governor "for distinguished achievements in the field of literature and art".
The head of the jazz department, the arrangement teacher in Sverdlovsk Music College named after P. Tchaikovsky. Creator and conductor of the big band at this college (2001).
Artistic director, soloist and chief conductor of the Krasnodar Big Band named after George Garanian (2010-2011).
Since 1985 began his professional performing activities as a trombonist in the well-known Sverdlovsk guitarist Valery Birikh's ensemble "Gamma Jazz".
Since 1987, took an active part in the projects of the composer and pianist Michael Agre (Israel), including his experiments in the formation of modern musical space of chamber theater.
In 1990-92, in parallel with the work at the Ural Philharmonic Orchestra he engaged in arranging author's plays for musical theater of St. Petersburg composer Anatoly Zatin.
From 1993 to 1995 he was a soloist of the ensemble "AMA Jazz" with saxophonist Igor Parashchuk and trumpeter Sergei Pron. With this line-up he took part in the Russian-French Festival (Moscow, Protvino, Chernogolovka) in 1993.
Since 2003 - the trio FREEBRASS (Pron-Parashchuk-Vladimirov).
Since 2007 - the quintet David Orchestra (Saifullin-Paraschuk, Vladimir Titov, Kravtsov).
Participated in concert tours and studio sessions of Russian, European and American musicians (George Garanyan, Askhat Saifullin, Sergey Pron, Igor Parashchuk, Roy Young, Peter Brettsmann, Richie Cole, Vitaly Imirelli, Jesse Jones, Julia Nixon, Denise Hernandez, Nicole Henry Melton Mustafa, Stanley Jordan, Kevin Mahogany, Charles Cook, Ron Holloway, Mihai Cohen).
Participated in the festivals: «Jazz-transit 2006-09», «Veyse jazz 2008-09», «Melton Mustafa Jazz Festival 2008-09» (USA), «Kuban-jazz 2007-08», Russian-French Festival «Moscow-Protvino», «Jazz pipe organ 2007-08», Jazz Globus 2011-12 (Israel).