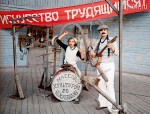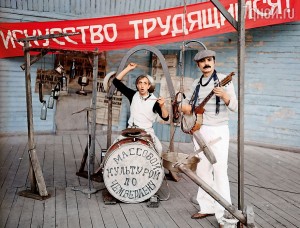 30 years ago Karen Shakhnazarov's film «We Are from Jazz» released on the Soviet Union screens and immediately became a film distribution hit.
For 30 years the story of the Odessa Music College student Kostya Ivanov does not descend from screens. He chose jazz and was expelled from the college. But he did not lose heart: he created a jazz band, which overcoming numerous obstacles, became famous. On the picture's anniversary photo exhibition with footages from the film was opened in «Mosfilm».
«It's in Odessa, it is, in my opinion, the first scene we shot, this suitcase. These are the first shooting days at all», — demonstrates the director, screenwriter, producer and the General Director of the film concern «Mosfilm», Honored Artist of Russia, People's Artist of Russia Karen Shakhnazarov.
Commenting the 30-year-old pictures Karen Shakhnazarov admits that before the beginning of the film «We are from Jazz» shooting he was about to say goodbye to cinematograph.
«I had such a difficult period. Everyone who worked on this picture was such "loser", as young people now say. That is, in general we weren't very lucky at that moment», — admitted Shakhnazarov.
One of the youngest and already successful bandleaders, Anatoly Kroll debuted as a composer in the film then. He created all the arrangements for the film.
«We are from Jazz» was named the best picture of 1983 in the Soviet Union, noted with diplomas and awards abroad, the audience of the 46 countries fell in love with the film, professional musicians assessed.
«Musicians in general did not appreciate many musical films, but this one they accepted as a movie about their lives. Because everything that was shown there they experienced in their personal lives. I'm one of them», — assures jazz conductor, composer, pianist, arranger People's Artist of Russia Anatoly Kroll.
Anatoly Kroll is also the first international festival-contest of jazz improvisation «Master-Jam Fest-2013» Jury Chairman.
[By the materials of «Russia — Culture» TV-channel]