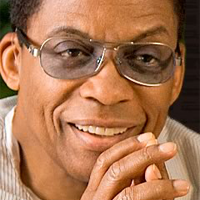 Dear Friends,
Today all the World Jazz Community celebrates the birthday of the prominent pianist and composer, the 20th century's Jazz Legend, one of the most influential Jazz musicians of modernity, UNESCO Goodwill Ambassador for Intercultural Dialogue and a founder of International Jazz Day Mr. Herbie Hancock.
We joint all the happy birthday wishes, which sound into address of Mr. Hancock from countless fans of his talent, relatives, friends from across the globe and wish him strong health, «creative blossoming» and success in all his undertakings. And the most important — permanently inherent fresh and innovatory sounding! Thanks to Herbie Hancock, jazz still plays its uniting, reconciling role to the full extent all over the world!
Sincerely yours,
«Master-Jam Fest» Team
Don't forget, on April, 26, in the Odessa Musical Comedy Theatre we will hold the Jazz Day celebration with the personal support of the maestro
You can buy tickets in the theatre box-offices and on the websites Ukrticket, Kassir24 и Today.od.ua.
HERBIE HANCOCK & MILES DAVIS - WATERMELON MAN - LIVE +QTY