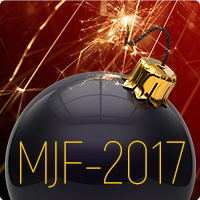 Dear friends,
Happy New Year 2017!
If the year could be compared with a voice, year 2016 would be, undoubtedly, the voice of Plavalaguna performing with a stunning vocal range and tension the aria in the film "The Fifth Element".
The year was filled with diametrically opposite in content and emotions events so intensively that many things still defy belief.
Still, each of us has much to thank the outgoing year for!
By the way, all of us are still short ofexactly "The Fifth Element" — Love.
Let us focus in the coming 2017 on what is worthy of love!
This means that love will fill our lives.
We wish you an inspired life filled with harmony and mutual respect!
Happiness and prosperity to you, your loved ones and friends!
Sincerely yours,
"Master-Jam" team
And again