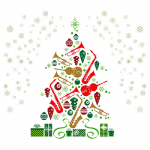 Dear friends,
We all survived «end of the world»!

And now bright, shining and joyful Christmas' and New Year's Days are coming!
These days full of good hopes, happy anticipations, grandiose plans we would like to wish you and all your folks Merry Christmas and Happy New Year!
We wish you a generous, abundant year, brilliant creative ideas, significant meetings, recognition, warmth, love, and of course, good health, so that implementing your grandiose plans you could happily built new ones, even more daring!
Sincerely yours,
The Master-Jam-Fest team