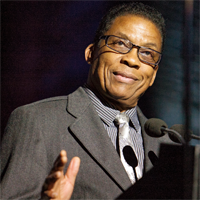 The author and Producer General of «Master-Jam Fest» Mikhail Freidlin received the letter of gratitude and invitation for further collaboration from Herbie Hancock, jazz legend of the 20th century, one of the most influential jazz musicians of modernity, 14 Grammy Awards winner, UNESCO Goodwill Ambassador for Intercultural Dialogue and UNESCO International Jazz Day founder.
August 2014
Mikhail Freidlin
Master-Jam Fest Project
Odessa, Ukraine
«Dear Mr. Freidlin:
On behalf of UNESCO and the Thelonious Monk Institute of Jazz, we would like to
thank you from the bottom of our hearts for helping to make International Jazz Day
2014 such a resounding success.
This year, you and your fellow organizers in 196 countries put together more than 600 individual events. Some organizers partnered with radio stations, public libraries, hotels, municipal governments, UNESCO National Commissions, jazz clubs, art galleries, schools and restaurants; others presented events simply as private citizens with a deep-seated passion for this wonderful music and its message of peace and cooperation.
In the midst of the many struggles, disagreements and crises that confront the
people of our beautiful planet, it is truly inspiring to see so many of us brought together by our mutual love of music. It is humbling beyond words to know that for at least one day there is someone in every country on earth taking time to celebrate jazz.
No matter how you celebrated, please know that we couldn't have done this without you. Please share your experiences with us by sending photos, videos, audio recordings, reflections, interviews, reports, and anything else you might care to share. We would love to hear from you.
Once again, thank you — and we hope you will participate again on April 30, 2015!
Sincerely,
Herbie Hancock
UNESCO Goodwill Ambassador
for Intercultural Dialogue
Chairman, Thelonious Monk Institute of Jazz
Thomas R. Carter
President, Thelonious Monk Institute of Jazz

Let us recall, International Jazz Day celebration in Odessa in April, 2013, organized by the «Master-Jam» project team, was the only one in Ukraine, marked by UNESCO on the official map of International Jazz Day, and the first edition final of the conceptually new International festival-contest of jazz improvisation «Master-Jam Fest» in June, 2013 became an outstanding event of jazz community.
For now accepting of applications for participation in the Master-Jam Fest-2014 is continuing on the project's website: master-jam.com
More than 300 Jazz improvisers from 55 countries have become participants of the second online season.