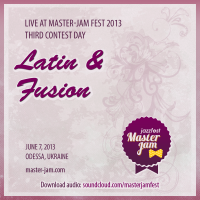 Live Audio | Master-Jam 2013 Final | Third Contest Day
This playlist contains 15 sounds, total time: 3.23.47
We continue to upload live audio-records of all the Master-Jam Fest-2013 Final contest days jam-performances into our official channel on Soundcloud.
You can listen to, download, share single compositions, which you like, or playlists on your pages in social networks or integrate records into your blog or website, and, of course, comment.
Each playlist corresponds to the certain contest day and its stylistic.
Each audio-record's title includes name, author and performer.
We bring to your attention audio-records from the third contest day of the Master-Jam Fest-2013 Final: Latin & Fusion. In our gallery you can get to know the details concerning composition of the ensembles, names of themes, as well as listen to audio records and even watch videos of all the compositions of the third competition day.
If you need samples from these tracks for your creative music works (some instruments or vocals), register on soundcloud.com, subscribe and contact us on http://soundcloud.com/masterjamfest, and we'll upload samples in the «wav» format.
Contest Days' Audio Playlists of Master-Jam Fest 2013 Final:
Day 1 | Mainstream – Swing – Bebop | June, 5, 2013
Day 2 | Ballad – Jazz-Rock / Funk | June, 6, 2013
Gala-concert Audio Playlists of Master-Jam Fest 2013 Final:
In our gallery