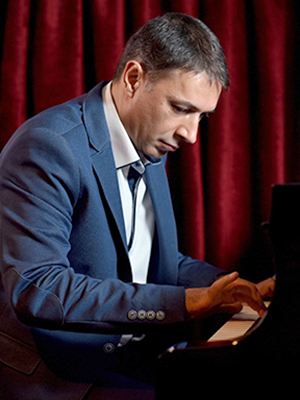 Russia, Khimki
Artyom Lalayan pianist, composer and the creator of "Jazz with Armenian accent\' project.
In 1988 in Nagorno-Karabakh Republic was created a jazz music quartet "Amaras", whose organizer and ideologist became the pianist and composer Artyom Lalayan. The quartet became famous in Armenia due to it\'s original and colorful repertoire with original compositions. While giving concert performances Quartet "Amaras" participated in various festivals and quickly won the sympathy of the audience, but also attracted the attention of foreign jazz industry.
In 1993, the head of the team "Amaras" Artyom Lalayan was invited to Moscow as a lecturer in pop-jazz college after Gnesin, where he continued "Amaras" band\'s history, which included well known Russian musicians.
In 1994, the musician created an ethno-jazz project "Jazz with Armenian accent." The repertoire of the program consisted of works of authorship Artyom Lalayan, which was d with time. The project has also had great success in Russia and abroad.
Continuing in giving concerts, Artyom Lalayan actively involved in organizing music festivals and competitions, such as "Jazz Cocktail", "Jazz Marathon" etc., which were carried out in the best concert and club halls in Moscow.
In 2003, having already had a great experience, a lot of developments and partnerships both in Russia and abroad, the head of "Amaras" band Artyom Lalayan organized a creative company "Amaras Art", which successfully acted as the organizer of jazz festivals and competitions for young performers, and it succeeded in creating and promoting the club and restaurant projects in Moscow.
Continuing organizational activities, putting into practice a variety of events as the club formats, as well as in concert halls, Artyom Lalayan gave a lot of concerts and actively participated in the international jazz festivals. Along with the creative and organizational activities in Russia and in the international arena, Artyom Lalayan became a co-producer of famous world-level jazz musicians.
Today, the musician is preparing for a European concert tour with the program "Jazz with Armenian accent." The idea of holding a series of concerts is because of long break in giving concerts, demand in the project, and it was supported by both musicians from different countries, and the audience, which is an indicator of the demand for music author Artyom Lalayan.