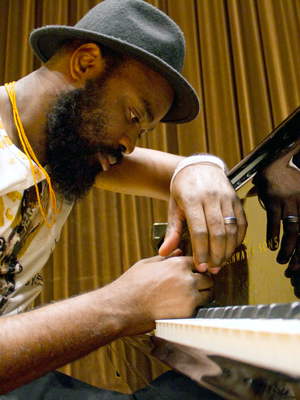 South Africa, East London
Growing up in the small town uMgungundlovu near Pietermaritzburg, KwaZulu Natal, Makhathini was surrounded by music as a child. Coming from a very musical family- his mother was a pianist and his father a guitarist- he was exposed to a range of music including traditional Zulu music. He recalls turning the knob on the radio until it reached the end, where he would listen to Indian music.
He was part of the choir at school and would sing at church, and until he was finished school, his voice was his instrument. It was only after High School that he started to study jazz piano. «I reached a point where my voice limited me from expressing the music, and that's when I focused on the piano.''
He feels his career has developed in what he describes as an organic process, starting with his upbringing and the influence of his mother being his first piano teacher. «Over the years I have learnt that if you submit yourself to the music or whatever your dream is then mother-nature has a way of taking care of the rest».
Nduduzo Makhathini has six albums out namely:
— 'Sketches of Tomorrow' • 'Mother Tongue': nominated for best jazz album at the 2015 SAMA's
— 'Listening To The Ground': nominated for best urban jazz album at MMA's 2016 and Best Jazz Album SAMA 2016
— 'Matunda Ya Kwanza'
— 'Icilongo-The African Peace Suite'
— 'Inner Dimensions'.
He is also 2015's Standard Bank Young Artists For Jazz, a UKZN graduate and 1st recipient of the British Academy Newton Advanced Fellowship Masters Scholarship. Currently enrolled in Stellenbosch for his masters in music. He is also a lecturer at University of Fort Hare.
MAKHATHINI has played, toured and recorded with Busi Mhlongo, Zim Ngqawana, Feya Faku, Jimmy Dludlu, Herbie Tsaoeli and many others.
He has also produced some of the award winning and nominees albums such as:
— Mbuso Khoza 'Zilindile': won best contemporary jazz album at the 2013 Metros
— Lindiwe Maxolo 'Time': Nominated best jazz album at the 2013 SAMA's
— Sisa Sopazi 'Images and Figures': Nominated best jazz album at the 2014 SAMA's
— Tumi Mogorosi 'Project Elo': Nominated best jazz album at the 2014 SAMA's
Previously taught music at Wits University, does music workshops at the National Arts Festival and SAJE. Recently performed at the Blue Dan Jazz in Mauritius, National Arts Festival, Joy of Jazz, the Stockholm Jazz Festival in Sweden, Cape Town Jazz International Festival and Essence Jazz Festival in New Orleans.