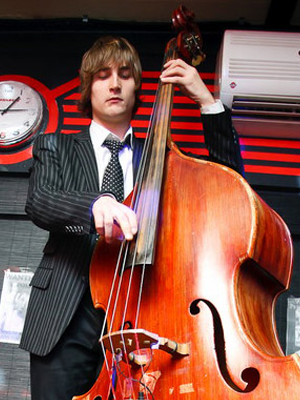 Russia, St. Petersburg
He made his debut at "Kvadrat" jazz-club in 1997. In 1998 he became a winner of the young performers contest "Autumn Marathon", which was held by St. Petersburg jazz music Philharmonic. He performed as a member of different ensembles, representing various kinds of music, such as Alexey Kanunnikov jazz-band, big-band conducted by Sergey Gusityanskiy. In 2006 he probated in the USA as a participant of the program "Open World", where he played as a participant of the Russian Eight with musicians from Moscow.
2008-2009 – performed with ensembles "Cuba Jam" (latin-jazz) and "Moon Glow" (acid jazz) at the festival "Usadba.Jazz" (Moscow), Maxim Nekrasov group at the harmonica festival at the Central house of artists and Yana Fortep Band at Jazzanova Jazz Festival (Austria).
At 2010-2011 he was continuing his creative experiments together with ensembles "Solar Project" and "Four and More". In early 2010 the work on the electronic music album was finished (Phil Me "Musical visualizations"). In June 2010 he took part in the recording of Nikolai Sizov piano trio album together with the drummer Gariem Bagdasaryan. The album was released in Japan. In May 2011 this ensemble accompanied. In May 2011, the ensemble accompanied for American jazz vocalist Ty Stephens at the concert dedicated to the city day of St. Petersburg.
In 2012 Philip performed at the International musical festivals in India («Jazz'n'Goa») and Russia («PetroJazz» in St. Petersburg, «Just Jazz» in Veliky Novgorod), released the album of original compositions «JazzPhil» (Philip Meshcheryakov ensemble) at the "Bomba-Piter" Lable. In the summer 2012 he participated in concert series with musicians from the USA: saxophonist Jesse Jones (as a member of Andrey Kondakov ensemble), vocalist David Post (together with Nikolay Sizov trio) and Belinov Blues Band ("White nights swing" festival).
Philip Mescheryakov (bass, Russia)
"Philip is a musician with a rich creative biography."