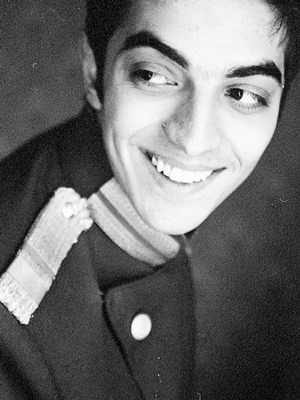 Armenia, Yerevan
My name is Rafael Hovanesian (or Hovhannisyan). I'm a jazz singer and lyricist. I was born on September 6, 1991, in Yerevan, the capital of Armenia. I've been inspired by Jazz since early childhood being impressed by the music of the legendary Louis Armstrong. I took private vocal courses at Yerevan Komitas State Conservatory (YSC) and graduated the College of State Song Theatre of Armenia in 2011. I have been taking special jazz master classes by one of the most popular and renowned Armenian contemporary jazz musicians Vahagn Hayrapetyan (piano player, composer, singer) since 2012, who studied his manner with Jazz be-bob legends Barry Harris and Frank Hewitt in New York and collaborated with many legendary musicians. I've concluded the International Czech Jazz Workshop (2015) in Prague.
I've worked with New York City organist/pianist Brian Charette, who is a Grammy-nominated musician and who has established himself as a leading voice in modern jazz.
In Armenia I've cooperated with the Armenian State Jazz Big Band (art director and conductor: Armen Hyusnunts) and performed with that legendary big band at Cafesjian Center for the Arts (Cascade complex). I've also performed with some of other leading armenian jazz bands in different jazz clubs and concert venues in Yerevan such as the Malkhas Jazz Club, Ulikhanyan Club, etc. "H.A.R.M.O.N.Y. Jazz Alliance" (USA, Georgia, Atlanta – American Jazz community united in promoting, pushing and publicizing jazz musicians) became interested in my music and some of my recordings of jazz standards were sent for promotion in local radio-stations of Atlanta in 2012.
I've performed also in Europe, I've shared the stage with well-known jazz musicians such as Brian Charette, Vinzenz Kummer, Matt Fishwick, Vahagn Hayrapetyan, Zaid Nasser, Tom?? Vrtek, Nikoghayos Vardanyan, Yervand Margaryan, Armen Tutunjyan, Jan Fe?o, Oliver Kent etc.
My influences are Johnny Hartman, Mark Murphy, Joe Williams, Chet Baker, Mel Torme, Marion Cowings, Bobby McFerrin and Kurt Elling. The minimalism and emotion of Charles Aznavour was also influential. I'm deeply inspired by the music of the legendary Armenian jazz diva Elvina Makarian, whom I call as my "musical mother", and world renowned Armenian jazz singer Datevik Hovanesian. I've received the praises of jazz masters such as Marion Cowings, Paul Bollenback, Brian Charette, Vinzenz Kummer, Bill Warfield, Gavin Skeggs etc.