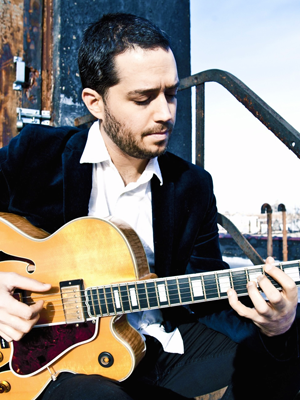 The USA, New York
"Since his arrival in New York in 2005, Israeli guitarist Yotam Silberstein has made an impact on the scene with his precision bebop lines and fleet-fingered improvisations."
JazzTimes
In only six years since landing in New York, internationally-acclaimed guitarist Yotam has earned a well deserved spot among the Jazz elite by collaborating with legendary musicians such as James Moody, The Heath Brothers, Paquito D'Rivera, Monty Alexander, Roy Hargrove, and the Dizzy Gillespie Alumni All-Stars.
Yotam's mastery of the guitar is featured on an array of hit albums, ranging from his recent releases, "Resonance" and "Brasil" on the Jazz Legacy Productions label, to Monty Alexander's Grammy-nominated "Harlem-Kingston Express Live!"
Whether playing straight ahead jazz, modern, Brazilian, world music, blues or bebop, Yotam's performances receive rave reviews from critics and fans. His stunning showmanship in the Kennedy Center's 2011 production, "Ella!" featuring Dee Dee Bridgewater, Al Jarreau, Dr. Billy Taylor and Janice Siegel, was so spectacular that Yotam was invited back for a special appearance at the KC Jazz Club.
Yet, critical acclaim is nothing new for this guitar prodigy, who was a finalist in the 2005 Thelonious Monk International Jazz Guitar Competition. As a recent review noted, "Yotam's tones are exquisitely old school but his playing is fresh, fiery and bursting with joyful exuberance, and musically he's one heavy cat."
Born in Tel-Aviv, Yotam began playing guitar at age 10. He quickly gained national acclaim and was invited to perform with many of the nation's top jazz musicians. At the mere age of 21, he won the prestigious "Israeli Jazz Player of the Year", performed at Italy's renowned Umbria Jazz Festival, released a highly-acclaimed debut album arrival, and launched an extensive tour of Europe and the Middle East.
In 2005, the rising star moved to New York after receiving a scholarship from the prestigious New School. Since then, he has gained the insight of several outstanding mentors, and a great deal of respect among fans, fellow musicians and jazz journalists.
Performing with the world's premiere artists has allowed Yotam to learn from the masters and hone his incredible talent. Now, at age 31, his skills are polished, his career is skyrocketing, and critics agree that Yotam is poised for a stellar future.
In a review of his 2009 release, "Next Page" a critic for All About Jazz summed it up succinctly: Yotam's "unadorned hollow-body guitar work freely invites comparisons to releases from the heyday of Blue Note Records. Yet, he isn't piggy-backing on memories. He's forging his own path with skill and style."