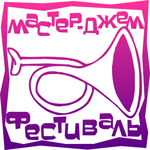 The registration of jazz improvisers for the participation in the International Festival-Contest of Jazz Improvisation Skills «Master-Jam Fest» is being completed.
More than 260 improvisers from almost 40 countries have become participants of the «Master-Jam» Online preselection, as young and experienced musicians too. Here you can see how participants were distributed across countries and categories.

Professionals and jazz lovers, their families and friends from more than 100 countries of the world, located on five continents, have overseen the development of this project. In the one of articles, we have brought to you the Festival website visitors' statistics, for example, per the one month, from November, 15 to December,15, 2012.
The Festival is supported by biggest jazz associations and world Media.
The second important phase of the project is beginning: the Jury voting for contestants, and the Internet-viewers online voting for contestants to the «People's Choice Prize».
The JURY VOTING
will be held from January, 15 to February, 15, 2013
During this time, the jury will evaluate video presentations of participants. The jury of the Online preselection consists of famous musicians, honored pedagogues, well-known producers and music journalists, popular TV hosts, prominent politicians. Their choice will determine for whom Odessa will open doors to the Final of the «Master-Jam» Festival-Contest. The Festival will pay the travel to Odessa and the accommodation there at the Final round of the contest for participants who pass to the Final.
The INTERNET-VIEWERS VOTING to the «People's Choice Prize»
will be held from January, 15 to February, 15, 2013 at the Festival web-site
Who will receive the «People's Choice Prize»? You decide it! Look video presentations of participants in different nominations, put estimates to contestants. You can follow ratings of contestants at the official Festival website and in social networks of the Festival. Look, listen, assess, make comments, take part in the Festival along with contestants, judges, and the team of the «Master-Jam»!
Results of the Jury voting,
and the list of finalists
will be announced after February, 15, 2013.
Also, all participants of the Online preselection (regardless of whether they will be finalists or not) will receive Diplomas of participants in the Internet-round of the International Festival-Contest of Jazz Improvisation Slikks «Master-Jam Fest».
LIVE FINAL DAYS of the FESTIVAL-CONTEST
will be held in April, 25–30, 2013, in Odessa (a «jazz capital» of Ukraine, the historical, cultural and tourist center near the Black Sea), and the Festival Gala-concert will mark the International UNESCO's Day of Jazz.
For the more information about the contest and the Final round of the Festival, see «Terms, conditions and the order of Festival»