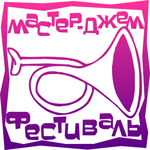 The second online round of the International Festival-Contest of Jazz Improvisation Skills "Master-Jam Fest" is finishing.
More than 271 improvisers from 41 countries have become participants of the "Master-Jam" Online preselection, both young and experienced renowned musicians are among them. Here you can see how participants were distributed over countries and categories.
Professionals and amateurs of jazz, their families and friends from more than 100 countries of the world, located on five continents, are constantly observing development of the project.
The Festival is supported by biggest world jazz associations and Media.
Dear friends!
We are grateful to all the contestants and internet-audience of the "Master-Jam Fest" for active participation at the project.
Jury members need more time for detailed assessment of all video presentations from registered participants, to make an objective decision and determine the finalists. As the number and quality of videos have exceeded expectations, the "Master-Jam Fest" jury work is extended until March 10, 2013.
During this time, the jury of the contest will evaluate participants' video presentations.
At the same time we are extending the online voting the winner of "People's Choice Award" till the first day of the "Master-Jam Fest" Final Round.
Who will receive the "People's Choice Award"? You decide it! Watch video presentations of participants in different categories, and evaluate them by putting ratings. You can check contestants' ratings at the official Festival website and in Festival groups and communities in social networks. Watch, listen, assess, post comments, take part in the Festival along with contestants, judges, and the team of the "Master-Jam"!
Results of the Jury voting, and the list of finalists
will be announced
from the 1st to 10th of March, 2013.
Dear friends!
Support your favorites! Share their video presentations in social networks and evaluate improvisers' videos at the site.
Now we are working to show ratings of all participants at the site — in each category separately and in a competition as a whole.
We are sending Diplomas for participation in the Internet-round of the International Festival-Contest "Master-Jam Fest" actively to all participants of the Online preselection (regardless of whether they will become finalists or not).
Stay with us!
Sincerely yours,
Master-Jam Fest team
For the more information about the contest and the Final round of the Festival, see "Terms, conditions and the order of Festival"