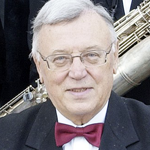 On the eve of the International Day of jazz, note that we invite the jazz community and visitors to the city of Odessa in the Odessa theater of musical comedy, we asked Elena Shevchenko, Art Director jazz club «Ragtime», the teacher-methodologist of the Odessa School of Art and Culture. K.F.Dankevicha, and a leading organizer of concerts and jazz festivals, a member of the International Union of Journalists and the author of articles on the theory and history of jazz, to acquaint us with the musicians who will take part in a concert dedicated to this day.
Elena Shevchenko says!
Artistic Director of the program for celebration of the World Day of Jazz, which, by the decision of UNESCO, will take place for the second time, Nikolay Goloshchapov is one of the most authoritative and respected experts in the field of jazz education and performance, honored worker of culture of Ukraine. N. Goloshchapov is the founder and permanent leader of the jazz department of the Odessa College of Art and Culture named after K. Dankevich since 1980. Before coming to work at the School he had a vast performing experience: for 10 years he worked in dance ensembles, playing the piano and accordion, worked a full-time arranger in the orchestra of Odessa military district headquarters, for 25 years he was the leader of the big band of taxi drivers «Green light», which was the first in Ukraine to play instrumental jazz music concerts with pieces by Duke Ellington, Harry James, Maynard Ferguson, Benny Golson.
Nikolay Goloshchapov created a training jazz band at the variety department of the College, which soon became a professional team actively performing at jazz festivals in Odessa and cities of Ukraine, Russia and Germany.

Notable projects were the «Jazz Arrangement Masterpieces», «Poetry in Jazz Rim» with the participation of the people's artist of Ukraine Oleg Shkolnik, «Duke Ellington's Spiritual Orchestra» which sounded in Odessa in 2000, 2003 and 2010, in Donetsk in 2004; subscription concerts in the Philharmonic, performances at international jazz festivals.
Nikolay Goloshchapov is a permanent jury member of jazz contests in Odessa, Donetsk, Rostov-on-Don. Member of the Presidium of the Jazz Association of Ukraine (since 1995). Co-organizer and vice-President of the jury of the International Festival-contest Master-Jam Fest.