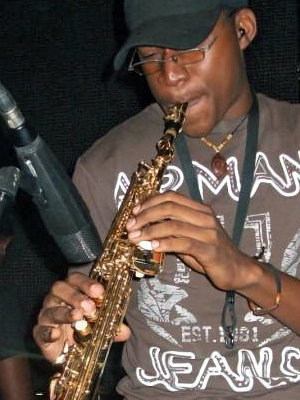 Cameroon, Yaound?
Alain Rodrigue OYONO is a young Cameroonian from the Centre of Cameroon. He was born in a Christian modest family of 6 children.
His father's choir's melodies contributed to awake his senses to the music. The choir's concerts from villages to villages continued to open his mind to the multiples sonorities of our land.
Surrounded of music instruments at home, he learned how to play guitar.
At twelve years old he discovered the flute, and decided to explore it because no one at home was playing that instrument.
Four years later, a friend offered him his alto saxophone. It was for him a revelation!!!!
At nineteen years old, he received his first proposal to play in a band in a cabaret.
Since 2003, many artists (from Cameroon and others African countries) invited him to share the stages: Etienne MBAPPE (Guitar), Henri DIKONGUE, RFI's (Radio France Internationale) band in Cameroon for their "D?couverte RFI", Manu DIBANGO (Saxophone), with Richard Bona (Guitar), Nad?ge BADOU (in Libreville Gabon).
In 2006 participated in African Jazz festival in Equatorial Guinea.
From April to June 2008 Alain was a member of the AFRICA STAR's orchestra (An African show for young talents) he played with African and Caribbean Stars.
In April, 2010 he released his first single "MON HISTOIRE" with 3 songs: Nku Nkuma, Mon Histoire, Les Contes du soir