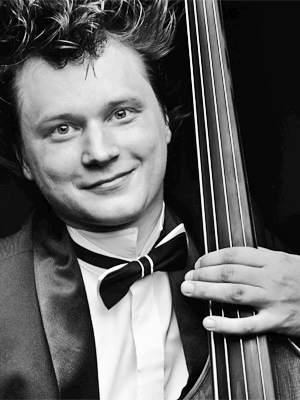 Russia, Yekaterinburg
Alexander Bulatov is a professional jazz musician. He was born in July 24 1984 in Yekaterinburg.
At 11 he entered the mainstream music studio at the state-paid educational institution "Palace of Youth" of the Sverdlovsk region where he started to learn bass-guitar playing. At the age of 15 Alexander was invited to Open Sound, the popular city jazz band. Since his first musical experiments with this band, he's been an active follower of the modern jazz culture.
In the year 1999 he finished the Ural Radio Technical School named by A. Popov. After graduation he decided to devote himself to practical improvement of his musical skills and worked with high-level professional musicians. They helped him to fulfill his creative musical potential, and helped to develop his ability to write his own pieces of music and thus opened a way to the top of the musical skills.
Alexander joined the band of a poet and a singer Alexander Novikov in 2006. As a bass guitarist Alexander Bulatov took part in all the concerts and recording sessions for his albums. During that year while working with Novikov, Alexander started to work at the State Cultural Institution of the Sverdlovsk Region, "Ural State Variety Theatre", where he still continues to do the job he likes.
During his work at the Variety Theatre Alexander Bulatov became a member of a famous Free-Spoken Band and they played together at popular in Russia large international jazz festivals "Usadba. Jazz – 2009" (Country Estate – eng) (Moscow, Arkhangelskoye country estate), "MuzEnergo #6" (Dubna), "MuzEnergo #7" (Kirmy), "Jazz Koktebel – 2009" (Koktebel Jazz Festival, Ukraine), "Kharkov Za Jazz – 2010" (Kharkiv Za jazz Fest), "Jazz Koktebel – 2010" (Koktebel Jazz Festival, Ukraine), "Art Jazz Cooperation – 2010" (Lutstk, Rovno, Urkaine). Constant intention for development of his creative potential has helped Alexander to form his own BassBulatovBand. Besides the musical instruments of the band you can also hear drums, guitar, keyboard and saxophone.
Alexander Bulatov devotes all his spare time to music, playing as a sessional musician in numerous musical bands. He is proud of being on the stage with such famous jazz musicians as George Cables, Bobby Watson, Allan Harris, Niki Haris, Alvon Johnson, Abdu Salim, Jamie Davis, Curtis Robinson, Michelle Walker, Julia Huff, Adam Klipple, Jim Beatty, Nicolas Bearde, Denise Thimes! Despite the variety of his music tastes, Alexander Bulatov primarily is a jazz musician. He is a resident of the first professional Yekaterinburg Everjazz jazz club.
http://vk.com/bassbulatov
http://www.facebook.com/alexandr.bulatov.9