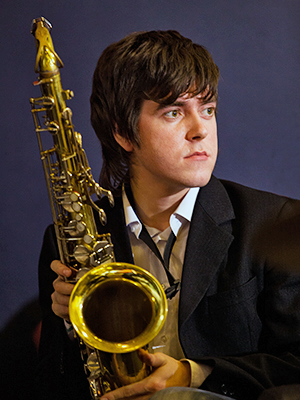 Russia, Moscow
The composer and tenor saxophonist Anatoliy Osipov is one of the brightest and original representatives of new Russian jazz musicians generation. His genuine music successfully combines the creative search and devotion to traditions, powerful compositions and deep ballads.
Anatoliy Osipov was born in Ust-Kinelsk, a small town near Samara. He started studying music when he was five years old; his first music instrument was piano. After graduation from the theoretical department of Samara Music School Anatoliy moved to Moscow in summer 2009 and entered the pop-jazz department of the Moscow State University of Culture and Arts.
In spring 2011 Anatoliy Osipov created the first ensemble "Osipov Band" and became the finalist of the prestigious youth competition "Estate Jazz" with this band. Since then the musician has appeared on the club stage, has written a lot of new music and has regularly participated in the musical festivals ("Empty Hills", "Metafest", "Modern Jazz Fest", "Gnesin Jazz", etc.).
Nowadays Anatoly is working on two stylistically different musical projects. "The Osipov Friends Band" plays modern jazz fusion and a jazz-rock, and "Post-Jazz Trio" is a cocktail, based on a set of styles and genres: jazz, ethnic, rock, but first of all on the European academic tradition.
http://vk.com/anatolyosipovmusic