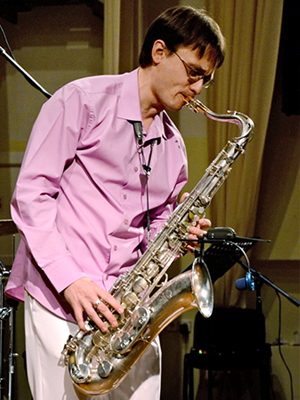 Ukraine, Donetsk
"Anton Tkachov (born in 1980) is a Ukrainian saxophonist, composer and arranger. Anton Tkachov is one of the most promising saxophonists on the contemporary Ukrainian stage, who feel himself comfortable in groups of both young and experienced performers. Tkachov special performing manner always could be distinguished by individual sound, competent phrasing; he can be a reliable partner and great soloist. Anton combines the best achievements of saxophonists of the past and his own composition innovations in his performances in the best way. He is a disciplined very much and self-collected musician - external "static" is always compensated by internal emotions. Last years Anton pay much attention to composing and fulfilling his ideas in the group founded by him.
He performs at jazz festivals of Ukraine, Poland, Russia and prepares new jazz thematic programs such as "Colours of Jazz", "Back to the roots", "Yes or No" annually. In 2012 Ukrainian (uajazz.com) and Russian (jazz.ru) jazz portals published an interview with Anton Tkachov. In the same year the first album "THE FIRST" with author compositions of the quartet participants has been released. It has been highly estimated by Ukrainian and Russian jazz critics.
In 2004 Anton won a special jury diploma "to the best saxophonist" at the International contest DoDoj Junior Donetsk, Ukraine.
From 2000 to 2005 he was a member of Valery Kolesnikov Quintet, Donetsk.
In October, 2012 he won the third prize and People's Award at the contest of jazz improvisation Siedlce, Poland"