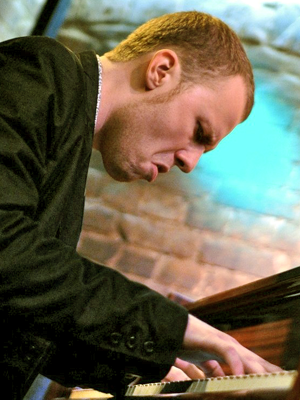 Russia, Yekaterinburg
"My name is Anton Zubarev and I'm a jazz pianist from Yekaterinburg (Russia).
I've been playing piano since childhood. I finished Ural Musical College on the base of Ural State Conservatory named after Musorgsky, and then Musical department of Ural Pedagogical Institute (class of Natalya Srodnych).
My musical preferences are mainstream jazz and be-bop, contemporary jazz. I was influenced by John Coltrane, Thelonious Monk, Bill Evans and so many other great cats.
I'm a sideman of such projects as "Andrey Pletnev Quartet", "Ignat kravtsov quintet", "Black Snow experiment", and I've got my own group entitled "All Jazz quartet".
2010 – was awarded with Boris Eltzin award ("Instrumental performance" nomination)
2011 - winner of the prestigious jazz contest "Usadba Jazz" (Moscow) with the Andrey Pletnev quintet
2012 - participant of the "Usadba Jazz festival" with the Andrey Pletnev quartet after contest award in 2011
2012 - travel to New York; it was significant to me because of taking some private masterclasses and taking part in every night jam-sessions at Smalls, Fat Cat and some ones in Brooklyn for a month."
Anton Zubarev (piano, Russia)
«I'm a sideman of such projects as "Andrey Pletnev Quartet", "Ignat kravtsov quintet", "Black Snow experiment", and I've got my own group entitled "All Jazz quartet".»