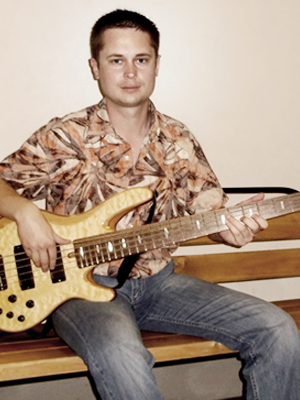 Transnistria, Tiraspol
Eygeniy Kitayev is a Transnistrian bass-guitarist, arranger and composer, who performs music of different genres.
Accompanied to such musicians as Alexey Kuznetsov (Russia), Vladidmir Danilin (Russia), Yuriy Kuznetsov (Ukraine), Lee Andrew Davidson (USA), John Daniel Walter (USA), Giovanni Falzone (Italy), Edith Steyer (Germany) etc. on Jazz sessions. He took part in the international project "Trigon(Moldova) / Jason Webley(USA) / Gheorghe Livaroi(Moldova - Kahul) / Evgeny Kitaev(Moldova-Tiraspol)".
He is the leader of his own jazz ensemble he performs with in different international festivals.
Eugeniy Kitayev (bass, Transnistria)
"He is the leader of his own jazz ensemble he performs with in different international festivals."