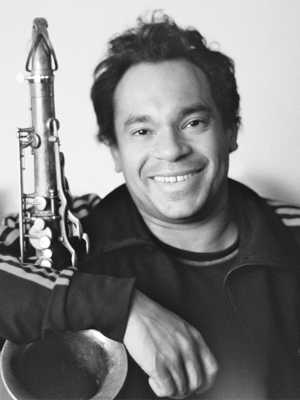 The USA, New York
American saxophonist, flutist and clarinetist with Colombian origins Hernan Jay Rodriguez is musical director/founding member of New York City's phenomenon Groove Collective (www.groovecollective.com), has been nominated twice for a Grammy under the best jazz solo category.
He has worked, produced or recorded with great artists like Elvis Costello, Gil Evans, the Mingus Big band, Celia Cruz, Tito Puente, Medeski, Martin and Wood, Craig Harris, Ray Barretto, Latin pop Icon Ruben Baldes and Willie Colon, Eddie Palmieri, Bobby Sanabria, Stevie Wonder, Joan Osborne, Debbie Harry (Blondie), Widespread Panic, the great Cuban pianist Chucho Valdes, JB Horn Fred Wesley, Bernie Worrell of Parliment Funkedelic, The great Cuban all star jazz band Irakere, Paquito D Rivera/The United Nations Big band under the direction of Dizzy Gillespie, Slide Hampton, James Moodym, Clark Terry, Wynton Marsalis, Cab Calloway, the New York Philharmonic, orchestrated for composer Philip Glass, Rap Artist like Guru's Jazzmatazz Jazz/Hip Hop project, and Tupac Shakur amongst many.
He worked in dance projects with Little Louie Vega, Dennis Ferrer, DJ Smash among others. Jay recorded/toured with Prince, Gangstar, Dj Premiere, Ray Barretto, Bernie Worrell, George Porter Jr., shared the stage with James Brown, Isaac Hayes, Erykah Badu, The Roots, B.B. King and others.
He has been being a part of the fabric of the NYC music scene in many genres as an arranger and soloist for the past 30 years…
Some of Jay's achievements have been included into the "Encyclopedia of Jazz" (authors: Leonard Feather and Ira Gitler).
"Prolific. Prodigal. Profound. That is Jay Rodriguez. Sometimes the sound is explosive, wild and full of fury, other times his music aches with a passion that's painful and bare. Always modest and reverent, Rodriguez harnesses the unbridled audacity of youth and melds it with the uncanny discipline of a hardened New York jazz veteran. Married to the song while sleeping with the groove, his sound sings of commitment to an ideal—it is spontaneity, culturally untethered and unpretentious, the excitement of far flung love at all costs. It is perfectionism kissed by chaos." — Michael Gelfand